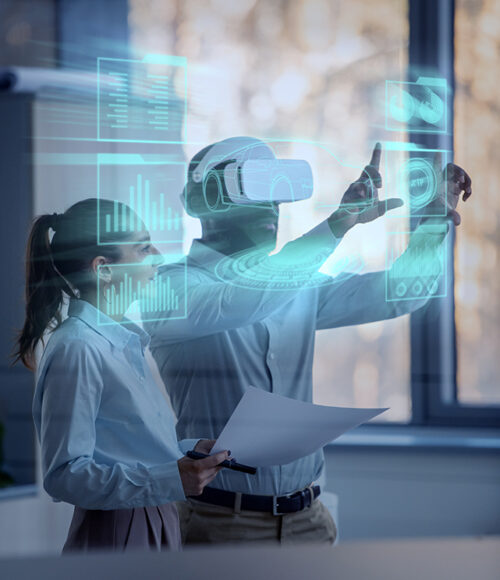 Information Technology (IT) solutions refer to the application of technology to solve business or organizational problems on a broad scale. No matter the size, any type of business can benefit from IT solutions, and they help to simplify complex business processes and make them manageable.
Here are our IT solutions:
1. Cloud Computing Services: These services allow businesses to store and access data and programs on remote servers, and then access all the information via the internet.
2. Cybersecurity Solutions: These solutions protect the integrity of networks, programs, and data from attack, damage, or unauthorized access.
3. Data Analytics: This involves the process of analyzing raw data to find trends and answer questions. This helps in making informed business decisions.
4. Software Development and Implementation: Custom software solutions can help businesses streamline their operations, increase efficiency, and cut costs.
5. IT Consulting: IT consultants can help businesses choose the right technology solutions for their specific needs and help implement these solutions correctly.
6. Network Management: This involves the administration and management of a network of systems to ensure its smooth functioning.
7. Hardware/Software Support and Maintenance: This includes the tasks necessary to keep a system running smoothly, such as troubleshooting, system updates, and user assistance.
8. Disaster Recovery and Business Continuity Planning: These solutions help a business to continue functioning even in the event of a major disaster or disruption.
9. Enterprise Resource Planning (ERP) and Customer Relationship Management (CRM) Systems: These software solutions can help a business manage and integrate the important parts of its business such as planning, purchasing, inventory, sales, marketing, finance, and human resources.
10. IT Training: This involves teaching employees how to use newly installed hardware and software.
11. AI (Artificial Intelligence) solutions refer to the use of machine learning algorithms and software (or "intelligence") to mimic human cognition in the analysis, interpretation, and understanding of complicated data. AI solutions are designed to handle tasks such as problem-solving, data analysis, and forecasting, which are typically performed by humans but can be done more efficiently or at a larger scale by AI.
These solutions can be outsourced to an IT services provider such as RHG TECHNOLOGY ADVISORY (UK) LIMITED. The right IT solutions can help businesses become more efficient, protect against security threats, and get a competitive edge.